Start of Year 5 swimming
Well done to Year 5 who started their Summer Term swimming programme today. We are very lucky that a local school has allowed us to use their pool for these lessons. They looked tired but very happy on their return from their swim!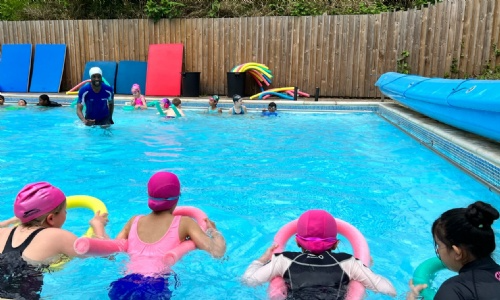 Sports Days 2023
Some parents have asked about the dates for our sports days for this academic year. These have now been confirmed and can be seen on the school calendar. We would love you to join us to support our athletes if you can make it. The dates are as follows:
Year 3 and 4 Sports Morning - 9:00 - 10:30 - Friday 30th June
Reception, Year 1 and Year 2 Sports Morning - 9:00 - 10:30 - Friday 7th July
AM Pre School and AM Nursery - 10:30 - 11:30 - Wednesday 12th July
PM Pre School and PM Nursery - 14:30 - 15:30 - Wednesday 12th July
Year 5 and Year 6 Sports Morning - 9:00 - 10:30 - Friday 14th July

King's Oak Stay and Play
Please see the details below for a new Stay and Play session starting at King's Oak after the half-term break. This is being run by Kingston Children's Centre service and is open to everyone. Please use the contact information on the flyer below to find out further information.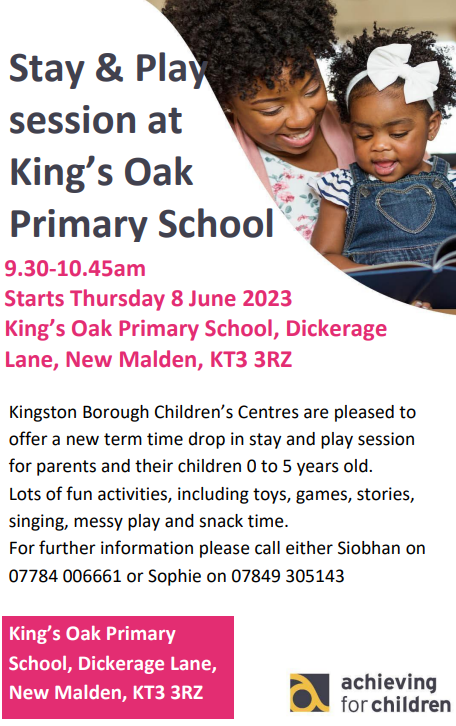 Termly visit by our School Improvement Partner
This week we were visited by our School Improvement Partner from the local authority. She checks in on the progress that the children and the school are making. As well as meeting parents at the school gate in the morning, she spent time looking at data and conducted a learning walk across the whole school. She was impressed in particular with the engagement and focus of the children and the brilliant behaviour that she saw around the school. Well done to everyone who was involved.
Parent Staff Association (PSA) Meeting
Next Wednesday (24/05/23) we will be holding our May PSA meeting. These are an opportunity for you to join in the discussions about future fundraising and social events and get to know other members of the school community. The meeting is being held online at 20:00 - if you would like to join us, please use this link at the appropriate time. For further details, please contact the PSA - psa.kopsch@gmail.com.
Have a great weekend.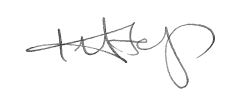 Ian Hutchings
Headteacher