Harvest Festival Donations
A huge thank you for the wonderful donations that we have received this week for our Kingston Food Bank harvest appeal. These donations will be taken to the foodbank depot and used to create food packages for families in need in our local community. Your support with this charity work is very much appreciated.


Pregnancy Announcement
Congratulations to Emily Davis, our ELSA and Play Therapist who will be leaving us at the end of term to have a baby. Mrs Davis wanted to make sure that you knew that for any child who is currently having play therapy sessions, that these would be concluded before the end of term.
Reminder about Krispy Kreme PSA sale next Friday
Thanks to everyone who has already pre-ordered their boxes of Krispy Kreme doughnuts for the PSA sale taking place next Friday from 15:00. On the day you will be able to buy doughnuts, popcorn and fruit so please support the PSA and look out for the stalls that will be in the KS1 Playground outside the main hall and in the bottom KS2 playground outside the Year 5 classrooms. This will be a great way to give your family a small treat ahead of the half-term break.
Parent consultation bookings
Well done to everyone who has managed to find a convenient slot for your parent consultation next week. We currently have about 70% of families who have booked. It is vital that we get to see all parents and carers, so if you have yet to make a booking please can you do this as soon as possible. Bookings are made through your ParentMail account which can be accessed online via the website or app.
Free fitness classes at Kingston Fairfield
I wanted to bring your attention to a FREE fitness class each Saturday on the Fairfield, the sessions are designed to be accessible for all regardless of your current level of fitness. The sessions are always inclusive and fun, allowing you the opportunity to get fit in a fun social atmosphere with your community.

9:30 – 10:00 family fit: A fun session for the whole family

10:00 – 10:30 Boot camp: an inclusive sessions for adults to work out effectively in a safe, friendly, community atmosphere

The sessions will always be completely free for everyone and are bookable on the following link www.ourparks.org.uk/kingston.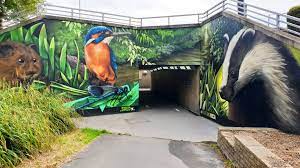 Donkey Alley art project - competition for ideas
We are partnering with an art group called Sky High to transform Donkey Alley into a large mural. The school have been tasked with generating ideas and concepts for the project. I have already spoken to the children about this in assembly but you might like to remind them if they have a free few minutes at home to draft some ideas for the mural. If they make sure that their name is clearly on their design and bring it to me straight after half-term, we will share the ideas with Sky High and determine how the King's Oak ideas will be included. It will be fantastic if we can get the children's ideas and artistic talents featured in this beautiful project. You can see above an example of the work of Sky High in the local area.
Cardboard box appeal from Year 2
The Year 2 classes are about to start a design technology (DT) project and need some cardboard boxes (cereal, shoe, tea, etc - easier to cut rather than cardboard that is too thick) If you have some that you are about to recycle, please consider bringing them into school and handing in direct to one of the Year 2 classrooms - thank you.
Key Stage 2 Golden Time Gymnastics Club
Mrs Rogers will be starting a gymnastics club for children in Years 3,4,5 and 6 to take place each Friday afternoon during Golden Time. Four children from each class will be able to participate each week. If your child signs up to attend, they should make sure that they have appropriate footwear in school on this day - this can be either plimsolls or trampoline socks. I am sure that this will be a great opportunity for the children.

Have a wonderful weekend, see you next week for the final week of the half-term.

Ian Hutchings
Headteacher