Nursery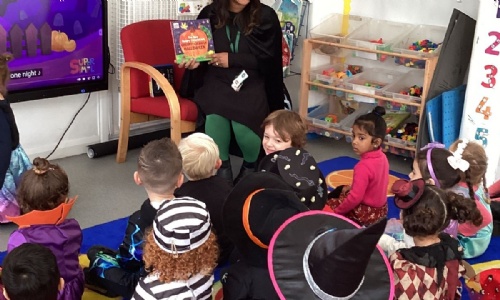 This week the children have enjoyed listening to the story 'The Pear Tree' which discusses the different months of the year and woodland creatures. We have been talking about the seasons, months in the year and what our local area looks like at different times of the year. We also learnt a few new songs. I have linked them below.
One Tuesday we had a Halloween party with a reading focus. The children enjoyed listening to lots of spooky stories throughout the session read to them by the Nursery Witch (Miss Balendran). The children prepared by coming in fancy dress and making cheese and jam sandwiches for everyone. We were so impressed with all the spooky outfits that parents had gone to great lengths to make for the children to enjoy.
We had the opportunity to look inside a pumpkin and do some scooping. The children enjoyed smelling, touching and tasting the pumpkin too! We also had some collage, sensory and messy play which the children absolutely loved. Thank you for the contributions for the party.
Months of the year: https://www.youtube.com/watch?v=Fe9bnYRzFvk
Seasons of the year: https://www.youtube.com/watch?v=8ZjpI6fgYSY