Year 2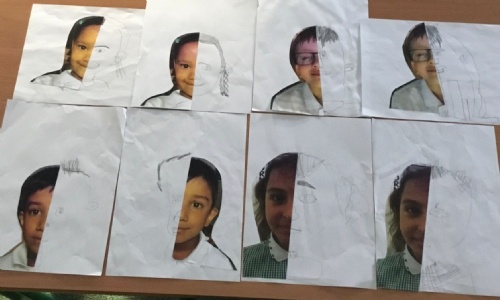 We have had a wonderful couple of days, all the children are settling in well and are working hard to learn the expectations and routines of Year 2.
Our PE days are Wednesday and Thursday. Children are asked to come to school in their school PE kit on those days. If you are unsure what their expected PE uniform is, please ask one of the Year 2 team or check the school website for clarification. Please also ensure your child has a named water bottle with them each day, thank you.
In Art, this week, we have been learning how to draw a self-portrait. The children were given a photograph of half of their face and shown how to sketch the missing half. We then watched a video all about a little boy called Austin, who listened to constructive critique from his classmates and learnt how to improve his drawing through a series of drafts.
In the attached photo, you can see the children have drawn two drafts so far, and the improvements they made based on the comments from their peers. Today, the children will be adding colour to their portraits, focusing on shading with coloured pencils and careful observation of colour.