Year 2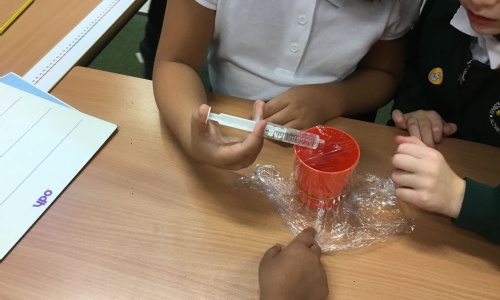 Science - testing materials
The children really enjoyed testing a variety of materials to see which were waterproof and which were not.
They discussed what they would wear if it was raining and why, and what materials their wet weather gear was made from.
The children were asked to place rubber gloves, cotton fabric, cling film, tin foil and kitchen towel over the cup, securing it with a rubber band. They then dropped a few drops of water from a pipette onto the material. If the water droplets fell into the cup then the children recorded the result as not waterproof. If the water droplets sat on top of the material then they recorded the result as waterproof.
Afterwards, the children took a wax crayon and coloured a new piece of material, this was then tested again. The children found it fascinating that the cotton fabric was not waterproof at first, but once they had coloured it with crayon it was waterproof and the water rolled straight off of the fabric.
The children concluded that while some of the materials they tested were waterproof, only certain materials were suitable for making clothes to wear in wet weather.