Year 6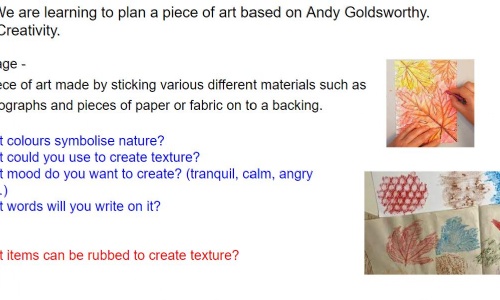 It is now only 4 school days until SATs - please make sure that your child is attending school on time and is well rested. They should be revising little and often and try to do some family activities during the weekend to help them relax.
In art this week we planned a nature inspired piece of artwork using inspiration from the artist Andy Goldsworthy. As part of this, we have planned three different types of artwork: collage, photograph and sculpture. For the photograph, we discussed focus, filters and proximity to the subject matter. For sculpture, we discussed the potential size and materials available before sketching 4 designs which we will then ask the class to vote on the most effective design. For the collage, we discussed the importance of colour and which colours had certain nature connotations. We thought about texture and mood and will be creating wax rubbings to include in our designs.
Please start to collect any natural materials including sticks and stones and bring them to your class as soon as possible.